We are now on Facebook and Instagram! Please "Like" and "Follow" us!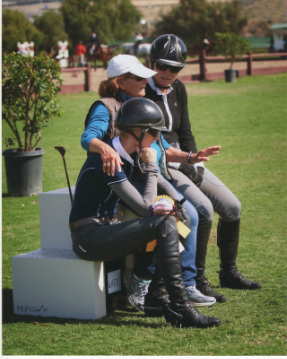 We are a full-service training and lesson program that offers exceptional training in a fun and friendly environment for multiple disciplines – jumpers, equitation and hunters. Whether you are riding for the first time, looking to ride for fun and exercise, or wanting to train and show at the highest level we can provide you with the necessary tools and skills to achieve your goals.


Our lesson program starts with the basics of riding and horsemanship. As we have a wide range of well-trained and experienced horses and ponies in the lesson program, we appeal to riders of all ages and experience levels. Here, you'll also have the opportunity to show, lease, and (if interested) prepare for horse ownership.

Once our clients are ready to own their own horse or pony, we are there to guide them through every step of the process. Not only do we have the occasional known and loved horse for sale at our barn, we routinely rely on our well-established relationships with trainers and barns in Southern California and Europe to find the perfect horse to suit their needs. After purchase, rider and horse will work closely with Alden and Erin to transition smoothly into Erin's training program.

Erin offers training at every level for both horse and rider. By focusing equal attention to both aspects of the partnership, she is able to help each improve and reach their highest potential. The horses and riders in this program are the core of our exceptional travelling show team, but several of Erin's clients prefer to improve their skill set solely at the barn for their own private enjoyment.

Our priority is taking each client toward their personal riding goals at their own pace. At Alderin Sporthorses, Tracy, Alden, and Erin work closely together to provide clients with the highest possible service and every available option to achieve their riding goals.
Erin Isom, Head Trainer/Director of Private Program
(310)634-8969

Alden Giacopuzzi, Trainer/Director of Lesson Program
(310)766-0368